Click Below to Our Battery Store or Call Us: (800)400-4858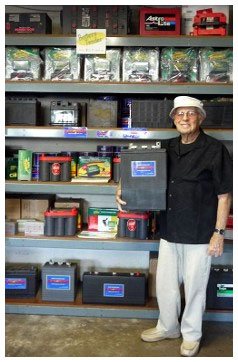 Find quality batteries for your automobiles, industrial equipment, alarms, and more at Powertron Battery Co in Santa Ana, California. Our battery store stocks new, factory seconds, and batteries for local distribution in and around Orange County, California, and uninterruptible power service nationwide. You can also earn extra cash by selling us your scrap batteries.
Established in 1962, Powertron has more than 60 years of knowledge in the industry. With an impressive background in manufacturing, we afford our customers the most accurate solutions to their individual needs. We are a three-generation, family-run business that cares about our customer relations. Our team provides personal service tailored to your needs and proudly stands behind our products.
Established as a battery manufacturing business in Orange County, California, Powertron Battery Co understands what makes an excellent product. In 1980, Powertron evolved into a distributor for major battery manufacturing companies from around the world. We stock a large inventory and ship anywhere in the United States, and we welcome walk-in customers, as well. Our staff is highly knowledgeable and trained with many years of experience in the battery industry.
William (Bill) Leonhardt, President of Powertron Battery Company, started out designing and building homes while opening a battery manufacturing business with his father in Puyallup, Washington, in 1950. In 1962, Bill sold the business and moved to California to design and build his home and battery-manufacturing business in Orange County.
As a Christian and a family-focused entrepreneur, Bill believes that faith is a key ingredient in small business success. Proverbs 3:13 says, "Happy is the man who finds wisdom, and the man who gains understanding." Bill has learned that a person needs to be a lifelong learner in order to be successful in business.
Powertron Battery Company, based out of Santa Ana, California, is not affiliated with Sunn Battery, Tri-State Battery Supply, Toughbatteries.com, Texford Battery, or Apex Battery, who distribute and use the name "Powertron" as a label for their products.