DEEP CYCLE BATTERIES FOR ALL YOUR BOAT, RV, GOLF CART AND MORE!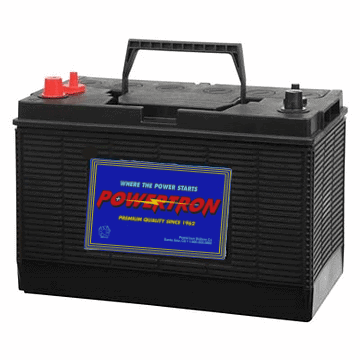 Our customers save an average of $40-$50 on their deep cycle batteries!
Powertron provides a variety of different deep cycle batteries for every application available. Whether you need a 24 deep cycle battery for your boat or a 12v deep battery for your motorhome, we carry high quality, brand new deep cycle batteries in our local Orange County battery store.
As a company that has been in business for over 58 years, we love to tell our customers it's Black Friday, Everyday at Powertron.
Why choose Powertron for your Deep Cycle Batteries?
Whether you need deep cycle batteries for your motorhome, boat, or golf cart, Powertron is your local go to battery store, anywhere in Orange County.
Our in house brand of Powertron deep cycle batteries will save you money, time and our 60+ years of experience will provide the knowledge, and added convenience of providing you with all your battery questions or inquiries.
We carry a large selection of deep cycle batteries from 6V, 8V, 12V and Marine deep cycle batteries, fully in stock. We also carry 12 volt deep cycle batteries for wheelchairs and scooters(CSB brand which are AGM-Absorbed Glass Mat sealed maintenance free).
Deep Cycle Batteries
Choose from a variety of deep cycle batteries with core for RVs and boats. All batteries are priced-exchanged. Pricing is as follows:
24 Deep Cycle – $89.99
27 Deep Cycle – $99.90
8D Deep Cycle – Call for Current Price
31 Tmx Deep Cycle – $139.99
Powertron carries a full line of Yuasa Motocross and Deka batteries for motorcycles, jet skis, and ATVs. All batteries are price-exchanged, so please call for a full listing. Prices include:
YTX4L-BS – $39.95
YTX5L-BS – $44.90
YTX7L-BS – $54.90
YTX9-BS – $57.95
YTX12-BS – $65.00
YTX14-BS – $67.95
YTX20HL – $89.95
ETX30L – $139.99
(Harley Battery)
Golf Cart Batteries
We stock the Trojan T-105 Deep Cycle 6-volt battery with core exchange for $164.50 plus core. If no core is exchanged at the time of purchase, there will be a core deposit charge of $20.00 each battery. This is refundable when the 6 volt deep cycle batteries are returned. Due to the fluctuation of lead prices recently, posted prices might vary. For current prices, call 1-888-671-9822.
What does Powertron mean by "priced-exchanged"?
This means that our sales price includes the customer trading in their old battery when making the purchase of a new Powertron battery. If the customer does not trade in their old battery at the time of purchase they will be charged an additional "core deposit"(starting at $10 and going up depending on which type of battery they purchase, Motorcycle batteries are $5.00 core). Customers can get this money back when they return their old battery with a copy of the receipt. There is no time limit on them doing this as long as they have their original receipt.
DEEP CYCLE FAQ SECTION
What are Deep Cycle Batteries?
Deep Cycle Batteries are batteries that are intended for providing power for a long period of time to applications such as powered wheelchairs, storage systems for wind and solar power, recreational vehicles, and more. These batteries provide electrical power, depleting between 40 and 70 percent of their capacity. They differ from car batteries in that car batteries are constantly being recharged whenever the engine is turned on, but deep cycle batteries are only recharged once the charge is significantly depleted. There are several varieties of deep cycle batteries. These include Flooded Lead Acid(FLA) Deep Cycle Batteries, Gel Cell Deep Cycle batteries, and Absorbed Glass Mat (AGM) batteries, among others.
Why Do You Need to Replace Your Deep Cycle Battery?
Once your battery is getting towards the end of its expected life, you should have it checked and tested in order to ensure that it is still in good working condition. Batteries are made using fluids that interact in a chemical reaction. Over time, these chemicals simply get old and do not hold a charge anymore. Sulfation is another factor that can cause a deep cycle battery to stop working. This happens when the battery is left to sit without recharging for too long or the plates of a Flooded Acid battery are exposed rather than covered in electrolyte solution.
How Often Should I recharge My Deep Cycle Battery?
Deep cycle batteries need to be monitored when in use to check the charge remaining. There are several excellent testing tools out there for all of the different kinds of deep cycle batteries, such as hydrometers, digital monitors that indicate voltage, or an amp-hour meter. The battery should be charged before the battery has only 20% charge remaining, although ideally it should be recharged at 50%. This helps ensure that your battery will have a long lifespan.
How long do Deep Cycle Batteries Last?
Deep Cycle Batteries are intended to be rechargeable and last for many years. Even under ideal conditions, deep cycle batteries last for differing lengths depending on the type. For example, Flooded Lead Acid and AGM batteries last between 4-8 years. Gel Cell batteries have shorter lifespans of 2-5 years.
Typical Signs Your Deep Cycle Battery is Dead or about to Die:
Your deep cycle battery may be on its way out if you notice some of these signs:
Battery won't hold a charge – If you charge the battery and it loses its charge quickly, there may be a chemical imbalance.
Battery won't charge to full capacity – If your battery charges just fine and stops charging once it's reaching capacity, the battery may have a dead cell.
Low fluid levels – Flooded Lead Acid batteries need fluids. If they dry out or have been dried out for too long, sulfation can occur. This means that the battery plates have been exposed to oxygen and the battery will no longer charge up.
A bulge or swollen case – This usually indicates that the battery has been overcharged, causing overheating and thus creating a bulge in the casing. This makes the battery unsafe to use.
ADDITIONAL APPLICATIONS WE CARRY BATTERIES FOR:
Marine
Golf Carts
Forklifts
Tractors
Trucks
Jumper Boxes
Wheelchairs
Clocks
Remotes
Trailers
RVs
Duffy Boats
Alarms
Lifecycles
Radios
Kangaroo Caddies
Automobiles
Motorcycles
Buses
Jet Skis/ATVs
Floor Scrubbers
Exit Signs
UPS (Systems)
Flashlights
Battery-Related Accessories:
Chargers
Testers
Tools
Terminals
Terminal Lugs
Hold Downs
Hydrometers
Booster Clamps
Braided Cables
Bulk Cables
Custom Cables
Booster Cables
Charging Posts
Marine Boxes
Shrink Tubing
Noco Products
Battery Cleaners
Battery Lifters
Marine Terminals
Battery Tender
Flashlights
Testing Meters
Terminal Cleaners
Battery Carriers
Bolts
Crimping Tools
GC Lift Straps