About Us
Founded in 1962, Powertron has more than 60 years of knowledge in the battery industry. With our background in manufacturing, we understand batteries inside and out and can offer our customers the best solutions for their needs.
Powertron is a three-generation, family-run business. We care about our customer relations and provide personal service tailored to their needs. We stand behind our products 100%.
Company History
Powertron began as a battery manufacturing business in Orange County, California. In 1980, the company became a distributor for major battery manufacturing companies worldwide. We stock a large inventory that hardware stores and auto suppliers can't match. We ship anywhere in the United States.
Powerton has a store in Santa Ana, CA, where we welcome walk-in customers. Our staff is highly knowledgeable, with many years of experience in the battery industry.
Our Team
In 1950, William (Bill) Leonhardt, President of Powertron Battery Company, was designing and building homes when he opened a battery manufacturing business with his father in Puyallup, Washington. In 1962, Bill sold the business and moved to California to establish his home and battery manufacturing business in Orange County.
As a Christian and family-focused entrepreneur, Bill believes faith is critical to small business success. Proverbs 3:13 says, "Happy is the man who finds wisdom, and the man who gains understanding." A willingness to learn and try new things has driven his small business success.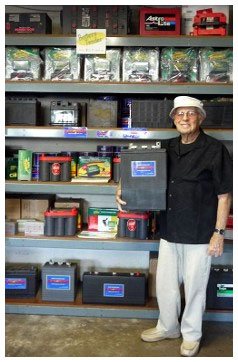 Company Address & Contact Information
Phone:
(800) 400-4858
Alternate:
(714) 543-4858
Fax:
(714) 543-9211
Email:
powertronbattery@sbcglobal.net
Address:
2218 W 2nd St
Santa Ana, CA 92703
Hours:
Mon-Fri: 8AM-4:30PM
Sat: 10AM-1PM