Buena Park's Trusted Battery Specialists located in Santa Ana
If you're a Buena Park resident or business owner, source all of your batteries and related services from Powertron Battery Co. With our extensive history in batteries since our founding in 1950, Powertron Battery Co. has quickly become the expert in the industry in the Buena Park area. We serve both retail and wholesale clients with the best available batteries. Powertron Battery Co. is your one stop shop for all battery needs, be they ordinary like a car battery or specialized like a boat or RV battery. Not only do we supply you with some of the most specialized and exclusive batteries, we do so at an affordable price. Find out for yourself why Buena Park residents prefer Powertron Battery Co.
Car & Auto Batteries
Any vehicle owner knows that a battery is an integral part of a car that makes it run. While car batteries are rechargeable up to a point, eventually they lose efficiency and become too damaged or old to function. Whether you've noticed that your car's startup isn't as reliable as it used to be, or it's been three years since you've changed the battery, it's time to consider replacing your battery. Other signs that it's time to replace your vehicle's battery include a battery leakage or a failure of electrically powered systems such as power windows and locks.
Powertron Battery Co. manufactures very reliable, durable car and auto batteries at a very low cost to you, even when compared with major auto battery brands. However, when it comes to operation, our batteries meet and exceed every standard for batteries in the industry. Cash in on the savings with us without sacrificing quality. Our new batteries are sealed, require zero maintenance and come with a three-year warranty and a free replacement promise good for 365 days against failure.
Deep Cycle Batteries
When you require power for a long period of time without recharging, you need a deep cycle battery. These power machines are typically used for boats, RVS,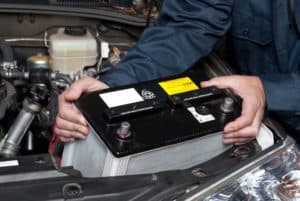 golf carts, solar power storage systems, wheelchairs and even jet skis. Deep cycle batteries come in varying voltages and chemical formats depending on the use. Typically, these batteries can be recharged and used for years. However, as with all batteries, they require replacement when they no longer hold a charge or show other signs of wear and tear.
At Powertron Battery Co., we have a full inventory of our own deep cycle batteries that can be used for a variety of applications. Choose from our 6V, 8V and 12V models. We also carry Marine batteries. To complement our selection, we carry an impressive lineup of Deka and Yuasa Motocross products as well. You won't find anything like our inventory anywhere else in the county. No matter which battery you choose, we offer a great discount for those who bring in their old battery as a trade-in when purchasing a new one.
UPS Batteries
These batteries are special batteries that help ensure that you have a backup power supply, or eliminate the chance that your power could be interrupted. UPS batteries are most commonly used for home and business computers, and in the telecommunications and data sectors. Although these batteries last for years, they do need to be replaced eventually. Most of these batteries come with systems installed that indicate when battery replacement is necessary. Unfortunately these types of batteries don't store well, so only purchase a replacement when you truly need it.
Powertron Battery Co. proudly distributes CSB batteries of high quality to the entire west coast and the reset of the nation. We carry a full line of products that includes models specially designed for use in a variety of settings and applications. The most advanced models can last for up to 20 years; more typical lifespans are five to eight years.
UPS Battery Distribution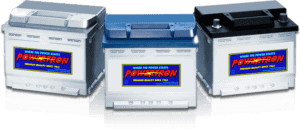 Are you a retailer yourself? We are CSB's nationwide wholesale distributor. Whether your business is large or small, we can meet your needs with a full range of CSB batteries. Nine OEM battery series are produced by the company. These batteries are suitable for everything from backup power to the powering of electric vehicles, surge protection and more. Let us know if you have questions and we'll be happy to help.
Battery Accessories
As a battery business, our inventory wouldn't be complete if we didn't offer these essential battery accessories: battery chargers and power inverters. Chargers typically serve several purposes including powering up a vehicle that's been kept in storage for a long period of time and also recharging deep cycle batteries. Deep cycle batteries don't recharge on their own like car batteries do when they're in use. Power inverters serve a different function, which is to turn battery power into electricity that can be used in the home, for an RV or an off-grid solar array.
At Powertron Battery Co., we carry a wide selection of high-quality battery chargers from well-known, reputable manufacturers such as NOCO, Guest and Deltran. In addition, we have power inverters from PowerBright in stock. All of our options are reliable and reasonably priced. Allow us to help you choose the best product that will match your battery.
Dedicated to the Needs of Buena Park
The city of Buena Park is nestled on the northwestern edge of Orange County, and supports a population of about 80,000. Featuring many attractions, Buena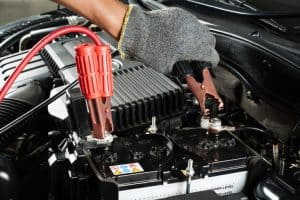 Park is home to Knott's Berry Farm theme park and the associated water park.In addition, many other attractions can be found in Buena Park's famed E-Zone where visitors can find Ripley's Believe it or Not! Museum. Conveniently located in the greater LA area, residents of Buena Park enjoy proximity to both this metropolis and the ocean.
Conveniently located in nearby Santa Ana, Powertron Battery Co. is easily accessible for Buena Park residents. Since we moved to Santa Ana in 1962, twelve years after our founding, we've been committed to serving our neighbors and friends with trustworthy battery products. Our family business has worked hard to earn and maintain our reputation as a quality manufacturer, retailer and distributor.
We proudly continue to serve the entire region surrounding Santa Ana with friendly service, unbeatable prices, quality products and great warranties. Stop by our store, send us an email or give us a call with any questions or inquiries. We look forward to serving you.
Anaheim
Anaheim Hills
Brea
Buena Park
Costa Mesa
Cypress
Dana Point
Fountain Valley
Fullerton
Garden Grove
Huntington Beach
Irvine
La Habra
La Palma
Laguna Beach
Laguna Hills
Laguna Niguel
Laguna Woods
Lake Forest
Los Alamitos
Mission Viejo
Newport Beach
Orange
Placentia
Rancho Santa Margarita
San Clemente
San Juan Capistrano
Santa Ana
Seal Beach
Stanton
Tustin
Villa Park
Westminster
Yorba Linda