Your Battery Source near Costa Mesa located in Santa Ana
Dedicated to Offering Costa Mesa the Very Best
It wasn't long ago that specialty stores were found in every neighborhood, on practically every corner. Rather than buying from big box stores, you went to your neighbor who knew everything there was to know about the products they sold. Now, those mom-and-pop stores are closing up shop. But not Powertron.
Despite the competition from those big box stores, we're still thriving. We believe this is due to a few key factors. First, we are dedicated to our customers. As a family-owned business, every sale matters to us. We are not just retail workers looking to bring in some money; our business is central to our family and part of our legacy.
Second, we focus on quality. We take great pride in the products we sell, in particular those we manufacture. We do not carry any products that we would not use ourselves.
Third, we offer a wide selection of batteries. Box stores may have your basic home batteries, but what about what you need to power an electric wheelchair? Or a jet ski? We carry these batteries in store, so you don't need to go searching for them.
Finally, there are our prices. Our products are the very best, but we don't charge top-of-the-line prices for them. When you come to Powertron, you get a bargain.
Powertron is located in Santa Ana, which is a quick drive from Costa Mesa. For the service you deserve, the quality you want, and the selection that you need, all for prices that cannot be beat, come to Powertron.
Our History
Bill Leonhardt founded Powertron in 1962. Originally, his goal was just to manufacture batteries, but then he realized there was a need for a comprehensive retail shop in Southern California. Over the years, we have grown and changed, but much has remained unchanged. Bill is still at the helm, and Powertron is still a family effort. When you come into the shop, chances are he will be there, ready to talk to you about our products and services.
Products and Services
Batteries are our business. In addition to the incredible variety of battery types we offer, we also carry complementary products and offer battery-related services. To learn more about what all we can offer you, take a look at our products and services below.
Batteries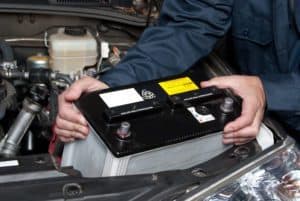 No matter what kind of battery you need, Powertron is the store to go to in order to get it. In our shop, you will find new batteries, quality factory seconds, and every battery accessory you need. In addition to selling batteries, we also buy your old batteries that no longer work. Our staff knows everything there is to know about batteries, so if you are ever uncertain about what you need, just ask us for help. We offer a comprehensive selection of batteries, including:
Alkaline Batteries: These are your standard household batteries and what likely comes to mind when you hear the word battery. These batteries are often relied upon since they power most of the smaller gadgets we use. If you are like most people, you never seem to have enough alkaline batteries around the house, so you should come to Powertron and stock up!
Car Batteries: No matter what make or model of car you have, Powertron will have the battery you need to keep it on the road. We carry car batteries from a wide variety of manufacturers, and we also manufacture our own, allowing us to sell them to you at warehouse prices. You can purchase our car batteries for your own use or to sell as part of your business.
Deep Cycle Batteries: We carry many different kinds of deep cycle batteries, which means that we will always have the one you need in stock. Powertron strictly carries high-quality deep cycle batteries that we price competitively. If you do not know what type of deep cycle battery you need for your RV, boat, or small vehicle, we can help you determine which is right for you.
Yuasa and Deka Batteries: Motorcycles, jet skis, and ATVs are vehicles, but they do not rely on typical car batteries. Instead, they use Yuasa and Deka batteries. As with all other batteries we offer, we carry a wide variety of them and keep them in stock at all times. To get your small vehicle running, turn to us.
Golf Cart Batteries: Here in Costa Mesa, it is common to use golf carts to get around smaller communities. We stock US2200 Deep Cycle 6-volt batteries with core and Trojan T-105 Deep Cycle 6-volt batteries with core, ensuring your cart is always performing well. With us, your golf cart battery needs are covered.
Battery-Related Accessories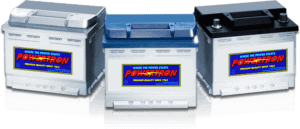 Batteries require various accessories to work their best. In addition to selling batteries, we also offer all the accessories you need. Among the items we stock are:
Chargers

Testers

Tools

Terminals

Terminal Lugs

Hold Downs

Hydrometers

Booster Clamps

Braided Cables

Bulk Cables

Custom Cables

Booster Cables

Charging Posts

Marine Boxes

Shrink Tubing

Noco Products

Battery Cleaners

Battery Lifters

Marine Terminals

Battery Tender

Flashlights

Testing Meters

Terminal Cleaners

Battery Carriers

Bolts

Crimping Tools

GC Lift Straps

Uninterruptible Power Supplies
Sell Your Scraps
Choose Powertron
Since 1962, we have been the trusted source for batteries in Costa Mesa. Since we offer amazing products at unbeatable prices, you have no need to shop anywhere else. Come on over or give us a call so we can help you.
Anaheim
Anaheim Hills
Brea
Buena Park
Costa Mesa
Cypress
Dana Point
Fountain Valley
Fullerton
Garden Grove
Huntington Beach
Irvine
La Habra
La Palma
Laguna Beach
Laguna Hills
Laguna Niguel
Laguna Woods
Lake Forest
Los Alamitos
Mission Viejo
Newport Beach
Orange
Placentia
Rancho Santa Margarita
San Clemente
San Juan Capistrano
Santa Ana
Seal Beach
Stanton
Tustin
Villa Park
Westminster
Yorba Linda