Dana Point's Trusted Battery Specialists located in Santa Ana
Car & Auto Batteries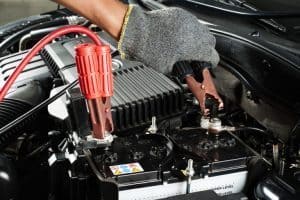 No car, truck or SUV can function adequately without a reliable battery to power its electrical systems. All standard vehicle batteries are designed to take a charge if they run out of juice. However, over time, recharging efforts will produce less and less usable energy. Eventually, the process will prove ineffective, and your battery will malfunction. To steer clear of any unforeseen problems, most professionals suggest that you buy a new battery every three years or so. Naturally, this timeframe can shrink if you experience power-related issues in any vehicle system, or if you notice signs of leakage or other forms of battery damage.
Powertron specializes in the manufacture of low-cost, ultra-durable car, truck and SUV batteries that provide significant savings compared to the average auto parts chain. All of our maintenance-free, factory-sealed products meet the most rigorous industry specifications. In addition, we offer a three-year warranty on almost every battery we sell, and if you experience a failure any time within a year of your purchase, we'll provide you with a free replacement. We do all this to help make sure that you maximize the value of your hard-earned dollar.
Deep Cycle Batteries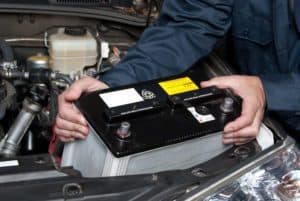 All batteries in the deep-cycle category provide long-term power without the need for frequent recharging. Vehicles and devices that rely on these products include golf carts, wheelchairs, motorhomes and RVs, jet skis, solar systems, and boats. While they come in a range of formats and voltages, all deep cycle batteries share one thing in common: you only need to recharge them when they lose a certain amount of power. Their durability makes them well-suited for ongoing use. However, even the most reliable deep cycle battery will eventually develop malfunctions that make it less useful or cause it to stop working altogether.
At Powertron, we manufacture and sell a complete selection of high-quality deep cycle batteries. Whether you need a 6-volt, 8-volt or 12-volt model, or a specialized marine battery, you'll find what you're looking for in our stock inventory. And we back up our house-brand offerings with the best selection of Yuasa Motocross and Deka products in all of Orange County. No matter which option you choose, all purchases entitle you to a substantial discount when accompanied by a trade-in of your current battery.
UPS Batteries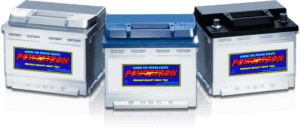 UPS batteries are used to provide electricity to devices called uninterrupted power supplies. In turn, these devices provide critical backup power for home offices and small and large businesses. Uninterrupted power supplies usually perform as designed for years at a time. When their batteries run low or experience operating problems, they should emit a detectable signal. However, a UPS battery can also develop significant issues without producing a warning. Products in this category don't store well, so you should only consider purchasing them when you have a pressing need.
Powertron is the national and West Coast retail distributor for CSB, one of the UPS battery industry's most highly regarded manufacturers. We carry a full slate of CSB products, and you'll find options in our inventory for all common (and uncommon) uninterrupted power supply configurations. Most of the company's batteries will remain functional for a span of five to eight years. CSB also produces advanced models that can supply reliable power for as long as two full decades.
UPS Battery Distribution
Battery Accessories
Battery accessories come in two main categories: power inverters and battery chargers. Power inverters play an essential role in emergencies by allowing you to create usable indoor electricity from the battery in a running engine or generator. In addition, they can supply the power required for RV interiors and off-the-grid solar systems. Battery chargers also serve two purposes. First, they make it possible to start an engine that has remained inactive for extended periods of time. In addition, you can use them to charge deep cycle batteries, which don't recharge themselves during normal operation like a car, truck or SUV battery installed in a daily-use vehicle.
At Powertron, we stock power inverters from PowerBright, well-known as a top provider in the industry. Our list of trusted battery charger suppliers includes Deltran, Guest, and NOCO. All of our battery accessory offerings uphold our ironclad standards for value, selection, convenience, and reliability.
Serving the Needs of Dana Point
Dana Point is one of Orange County's most picturesque seaside communities. Residents and tourists treasure the city for its beautiful coves and its natural harbor. The harbor also serves as an important connection point between the mainland and Catalina Island. Dana Point has a distinguished place in the history of Southern California surfing. The list of the community's events and yearly attractions includes the Tall Ships Festival, the Dana Point Grand Prix bicycle race, Doheny State Beach, Salt Creek Beach, the Dana Point Headlands Conservation Area and the Festival of the Whales.
Powertron is based northwest of Dana Point in Santa Ana, the seat of government for Orange County. For nearly 70 years, we've served as the county's go-to source for battery manufacturing, as well as battery retailing and wholesale distribution. No matter what kind of assistance you need, our friendly, family-run staff is on hand to provide you with the best in choice, quality, low prices and time-tested knowledge. And we back all that up with one of the industry's most comprehensive warranty programs. See us today, or call one of our in-house experts for more information.
Anaheim
Anaheim Hills
Brea
Buena Park
Costa Mesa
Cypress
Dana Point
Fountain Valley
Fullerton
Garden Grove
Huntington Beach
Irvine
La Habra
La Palma
Laguna Beach
Laguna Hills
Laguna Niguel
Laguna Woods
Lake Forest
Los Alamitos
Mission Viejo
Newport Beach
Orange
Placentia
Rancho Santa Margarita
San Clemente
San Juan Capistrano
Santa Ana
Seal Beach
Stanton
Tustin
Villa Park
Westminster
Yorba Linda